Brides aren't saying "yes" to your services?
That's because they aren't (really) connecting with you.
From the moment a bride meets you, you have 3 seconds to make a great first impression. Literally.
So, get them to notice you. Smile, make eye contact, be authentic, flirt a little…
No brides want to search for a wedding planner all day long. They want to meet and know that you are "the one" for them!
The happy feeling of stepping into a magical wonderland and believing anything is possible… I want your brides to feel that.
If we create your website together, we can make them really fall for you!
Let's see if we'd be a good fit…
Cheese and wine as your go-to saturday night snacks? Check. 
Time for a brand new website if you may be…
✕ feeling embarrassed about your outdated website
✕ relying on social media to get you clients (FYI you don't own that at all)
✕ getting hardly or no enquires from your current website
After a brand new website, you'll start…
✓ feeling confident and proud of your website
✓ attracting and working with your dream brides
✓ getting lots of referrals from happily married couples
✓ charging what you're truly worth for your services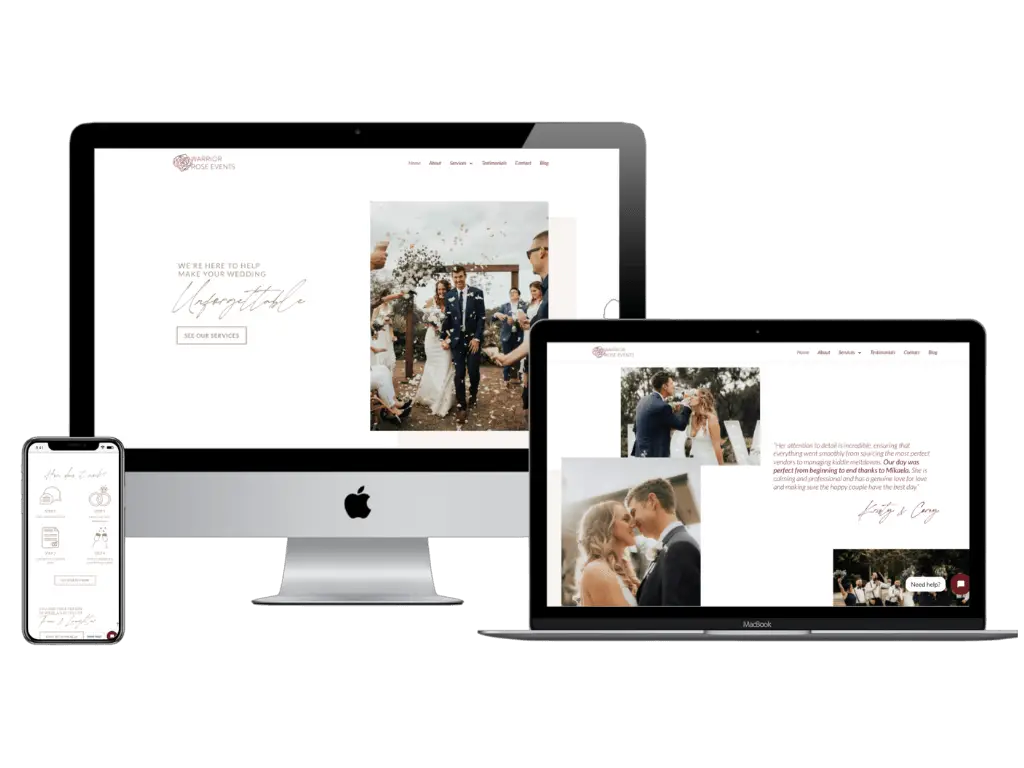 With an irresistible wedding website, you can expect to:
→ become the go-to wedding planning guru where brides choose you over everyone.
→ attract your dream brides and they want to hire you ASAP.
→ create the most gorgeous weddings for brides giving them an unforgettable client experience.
→ get lots of referrals as brides are in love with you and tell everyone about you.
→ increase your rate by looking like a professional, you can charge like one.
Let's work on your website together if you want this magic to happen to you too! 
Ready to get booked by your dream brides?
Let's create an irresistible website for your wedding planning biz that will fill up your calendar!
What's included in your website design package?
✓ 1:1 strategy session – we connect via zoom/phone call prior to starting your website project to make sure we're on the same page
✓ Custom website design and page build – dedicated to creating a one of a kind website that works for you and your wedding planning business
✓ Initial SEO setup – to ensure Google falls in love with your website so your dream brides can find you
✓ Live chat integration – to improve your user experience and sales conversion
✓ Custom Link in Bio page for Instagram – an onbrand landing page for instagram users and get them to the right pages (not relying on any third party apps, like Linktree)
We probably won't be a good fit if:
✕  You haven't got a wedding planning biz.
✕  You just want a cookie cutter website done.
✕  You don't see the value in a professional website and investing in your business.
✕  You have absolutely no idea what you want.
✕  You always find it difficult to make a decision.
We'd work well together if:
✓  You absolutely love planning weddings and want more brides to know about it.
✓  You're ready to invest and uplevel your wedding biz.
✓  You want to attract and work with your ideal brides.
✓  Your business is about helping brides pull off their dream wedding.
Instead of telling you to "trust me",
here's what they say…
"In not knowing where to start my website she has helped guide me every step of the way. Vivian asked questions along the way that helped trigger action and shape the website into the direction I wanted to go in."
"I have no idea how but she has managed to get what was in my head and make it a reality."
"I can't thank her enough for all she has done. I will definitely be using her again + recommending her to anyone who is in need of a website guru, designer + magic creator!"
"When I set out to update my website, I wanted someone who would be able to think of and create design elements that I wouldn't have thought of myself, and I was not disappointed."
"The process with Vivian was easy, clear and really helped me show the world what I do and who I want to work with, as well as target my ideal client."
"She made a seemingly daunting task of rebranding and building a multi-page website so very easy."
Ready to get booked by
your dream brides?
Let's create an irresistible website that will fill up your calendar!