Have you ever wanted to do something but felt too overwhelmed to actually do it? Have you ever felt overwhelmed about your next steps?
Perhaps it's getting things done for your business… You know doing those little things will move your business ahead but the thought of stepping out scares the heck out of you so you don't end up doing it at all.
I know I have, WAY TOO MANY TIMES!
On the other hand, some of us care too much about the final result that it makes us become paralyzed to do anything. Like we focus too much about the OUTCOME we forget that what we are meant to do is actually be OBEDIENT to God's call.
There's so much more than just the outcome, we can gain valuable knowledge and experience in the journey. We can potentially miss out on what God wants us to take in if we only focus on the final result.
So what are we meant to do when we feel a bit overwhelmed about our next steps?
4 Things to Do When You are Feeling Overwhelmed:
1, Breathe and Have a Drink of Water
According to Dictionary.com, the meaning of being overwhelmed is "to be covered or buried beneath a mass of something, as floodwaters, debris, or an avalanche; submerge".
If you are drowning, the first thing you need to do in order to survive is to catch your breath.
Find ways to breathe again and gain your strength so you can get back on track.
Breathe and have a drink of water. Go for a run, sweat it out!
Just do it. You will feel so much better and be able to think clearly when you get your physical state right.
2, Step Back and Look at It From a Different Perspective
Sometimes when you've been in a situation for too long, you seem to struggle to find a way out.
You may have A LOT on your plate but you don't have to do all of it right now.
Trust me, I know lol I've always been that person who wants to get everything done at the same time.
But what I've realised over the years is that I can't do that and I will make myself go crazy if I keep pushing.
If it means you need to sit back for a bit and go again later, then that's what you will need to do.
If it means you need to ask for help because you can't simply do it all by yourself, then you go and reach out to someone.
Step away from your situation and look at it with a different angle.
You May Also Like: Why Celebrating The Little Victories is So Important to You and Your Business
3, Reassess Your Priorities and Your Biggest (Or Scariest) Tasks
Whenever I feel super overwhelmed about my next step, I would reassess my priorities and my biggest (or scariest) tasks.
Why, you may ask?
Setting your priorities straight means you can focus on one thing at a time and get it done quicker. When your mind is scattered, you are only doing "this and that" task for a small percentage (aka moving each needle little by little). Whereas if you focus on powering through one task at a time, you can get that one needle over the line a lot faster.
When you do the biggest and scariest things FIRST, you immediately feel better about yourself because you feel like you've achieved A LOT. Basically you have a greater sense of achievement when you complete bigger and harder tasks. When your biggest and scariest things are done first compare to your other tasks, they seem so much easier all of a sudden.
4, Just Jump and Trust that God Has Got You
I love this quote "Your job is HUSTLE, God's job is HARVEST." from Amanda Pittman. She did a webinar called "Leap in Faith: When to Make Your Next God-Move" last week and wow I got so so so much gold from her!!
Sometimes you just need to jump and trust that God will do the rest.
You may not know what the road looks like in front of you but just take it one step at a time.
Baby steps, remember!? 
Like Jordan Sparks' song – "Take one step at a time there's no need to rush"… I had to share this as it was in my head haha…
P.S. If you like the quote "Your job is HUSTLE, God's job is HARVEST", I've got it printed on other products like travel mugs and tank tops etc. But my favourite has to be this throw pillow here.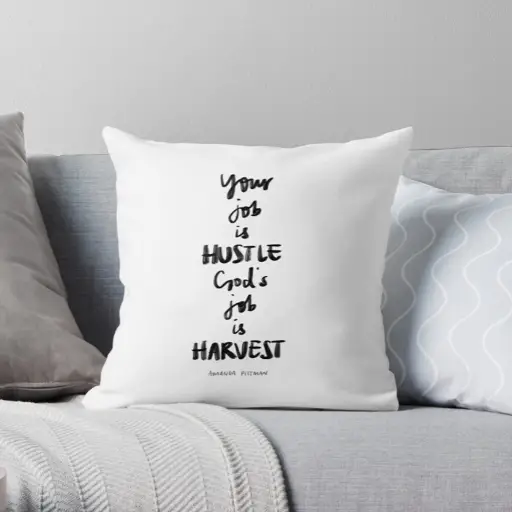 How about you? What do you do when you feel overwhelmed about your next steps? x
You May Also Like: 5 Inspirational Movies and TV Shows Every Girl Boss Should Watch