Did you recently join Etsy to make some extra money on the side? In this post, you will learn how I made $12000 on Etsy in my first year and how you can do it too!
If you are looking for a side hustle, Etsy is a great starting point.
What is Etsy and How Does It Work?
Etsy is an amazing marketplace where you can put your products in front of thousands and hundreds of thousands of potential customers.
You don't need to spend a lot of money to get started. Listing fee is literally a few cents and you pay a percentage of transaction fee after you've sold the products.
Their shopping interface is lovely and despite how much ecommerce experience you have previously, you can easily navigate yourself around it.
Long story short, I started using Etsy to sell my products a few years ago and there were so many things I wished I knew before starting it.
So I thought I would save you the headache and give you a few Etsy selling tips to make more money.
Before I get into it, here are some numbers…
I made $12000 on Etsy in my first year of being a seller ($12075.52 to be precise but let's just round it up to make it easier).
When you break it down, that's more or less $1000/month. That sounds pretty good to me if you are looking to make some extra cash on the side.
The most important thing is to figure out what you are selling on Etsy.
Do you have a hobby in craft or a love for DIY?
I highly encourage you picking something you are interested in because with any business or even just a side hustle, it makes it so much easier when you actually enjoy doing it.
After figuring out what you are selling, you can follow these tips to start making more money on Etsy!
5 Etsy Seller Tips to Increase Traffic and Make More Money:
1, Use Photos that Give People the "OMG I WANT IT" Factor
The first photo your potential client will see is most likely the thumbnail photo in the search results.
Now you only have a few seconds to stand out from your competitors and capture your potential client's attention so make it count!
How are you going to make yourself stand out?
Well you need to take high quality and well thought-out photos.
Let me show you what I mean by that!
For example, I was looking for some "white quilt covers" the other day and these were some of the searched results.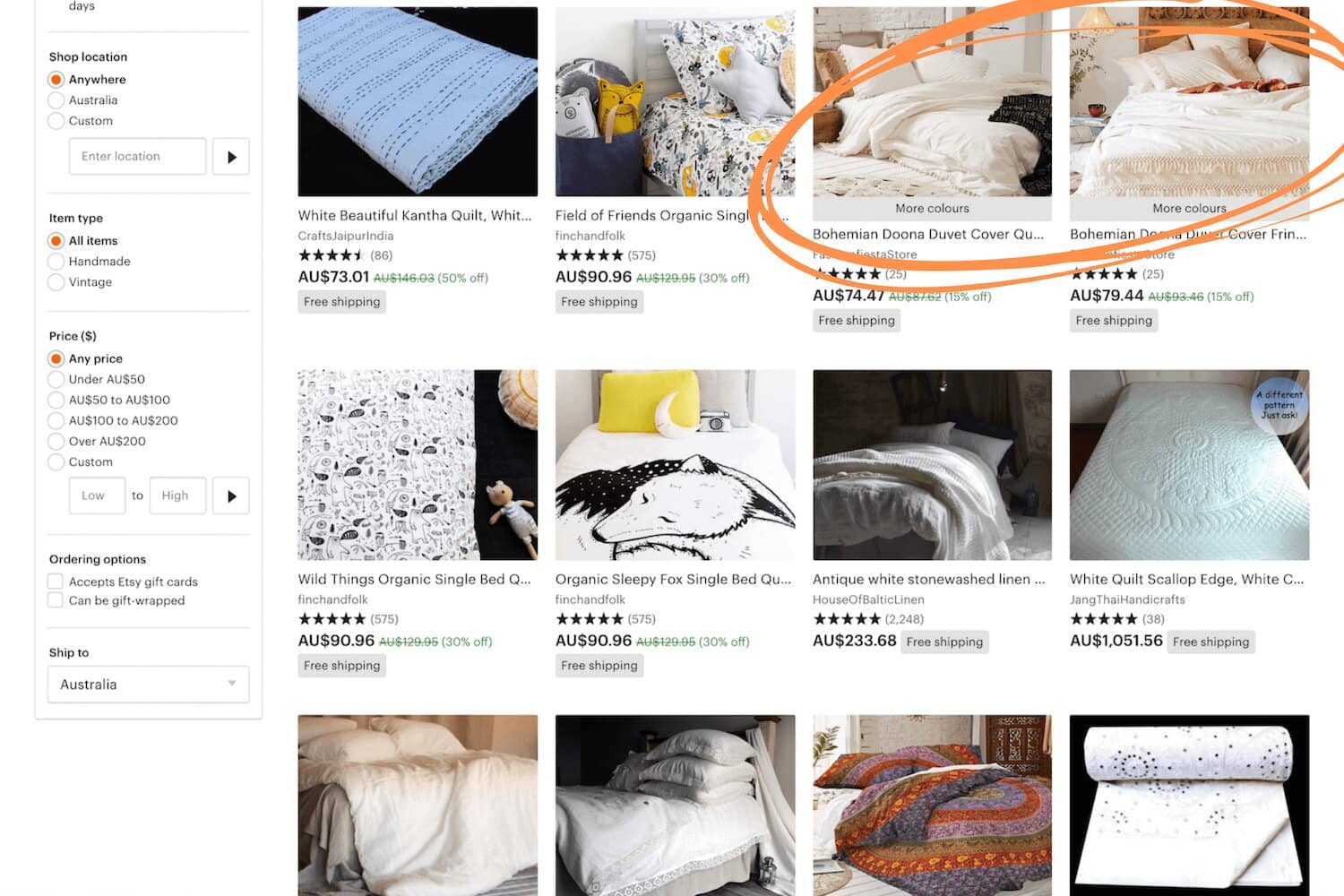 The orange circle indicates what caught my attention the most. These photos were beautifully captured and it makes me really want to click on them to find out more.
You see, it comes down to the styling and lighting of the photos. You have to make sure your photos are clear enough to be seen in a pool of photos in a few seconds.
Your customers can tell if you've put in effort with your photos. To me, they need to create some kind of feelings!
What do you mean by "feelings"?
Let me explain…
These two photos that captured my attention really give me a sense of peace and calmness which is exactly what I want for my bedroom.
It makes me WANT IT!
Not only do these photos make me "want it" but I NEED IT NOW! It gives me an idea of how I can style my bedroom with their quilt covers which means it has now given me the feeling of owning those quilt covers in my mind. Now that's powerful!
Always remember that "first impression is the last impression", even more so on Etsy when you are competing with thousands of amazing sellers.
2, Think and Talk like Your Customers
Now I've actually broken this point into 3 parts as it covers a lot more than I imagined 😛
Use everyday language that your customers already use
One way to know what your potential customers already use is the popular keywords in the search bar.
Simply type in the first few words of your products and you will be able to see what other popular keywords they've searched for in the past.
For example, if you put "thank you card" in the search bar, you will see the rest of the popular keywords that your potential customers have used before.
You can use this as a guide to pull out any relevant words for your listing title and tags.
In my case, "thank you card wedding" "thank you card template" "thank you cards photo" would be a good start.
Avoid using any industry jargons
I'm talking in your listing title, product description, tags, even in your conversations with your customers.
When I'm looking for a dress, my immediate thought is that I want it in a particular style and colour.
For example, if I want a floral maxi dress, then I would put "floral maxi dress" in the search bar.
Don't make the mistake of putting "BNWT dress".
Most of your potential customers may not know what BNWT means which means they won't put "BNWT" in the search bar.
Be as descriptive as you can be. It really helps with SEO (Search Engine Optimisation).
Talk to them as if you are talking to them in person
Imagine you are talking to your potential customer face to face. How would you greet them and converse with them? (More related questions on point 4)
Forget the formality of the computer screen and talk like you would to another human being.
Most of the time, it's better for a business to appear more personal rather than professional.
People tend to buy from others who they feel comfortable with and can trust them with their hard earned money.
If you're struggling to think how to do that, I would highly recommend you sit down and do extensive research on your customer before you move onto anything else.
You can't serve your customers well if you don't know what they are like. The lack of clarity in how to communicate with your customers shows how well you really know them.
3, Use Your Tags Wisely
If you are new to Etsy, there may not be any stats for you to look at. What you can do is put the same words from your description in your tags section.
Again be as descriptive as you can and use multiple words rather than a single word.
For example, use "double quilt cover" rather than just "cover", include the size and style of your product.
You can also repeat and combine some of the words that have worked well previously.
One thing I did when I first started was look at what the popular stores are using and test them out myself.
You can find their tags at the bottom of their listing.
4, Personalise Your Listing Description
Think of your listing description as a virtual shop where your potential customers walk in and out.
Would you greet them?
Would you teach them how to use a product?
Would you show them how your product can solve their problem?
Would you ask them to let you know if they need your help?
Just a few questions to think about…
Your potential customers will most likely ask you questions so be ready with answers.
You know what? Better yet answer them before they even ask you.
Mind you, some people will still ask you even if you listed all your FAQs lol
5, Respond to Your Enquiries ASAP
Etsy has made it super easy for us sellers to access our conversations on our phones and tablets even if we are not at our desk. It allows us to be able to reply to our clients on the go.
Don't miss the short moment when customers want something from you (or when they are in a buying mood!!). If they don't hear from you shortly, they will move on to other people.
It's as simple as that.
We live in a microwave generation where we want things RIGHT NOW!
Even if they are not your ideal customer, you never know who they know and who they can refer to you in the future.
Always treat your customers like they are someone important (because they are!).
.
Let's sell more and win on Etsy together!
I hope this post gave you a bit more insight on how I made $12000 on Etsy and how you can do it too. Once you truly understand your customer better, you can really use Etsy to your advantage.
You too can make $1000/month (or more!) in your first year of being on Etsy. If I can do it, you can too!
If you liked this post, go ahead and share this with your friends 🙂 x
Loved this blog post?
Choose your favourite image below and pin it on your Pinterest board for later.